I AM SOCA 'REVEL" in MIAMI
Status:

End
Category:

Soca Event
Organizer:

Only Feters
Note: For all the event information, contact the organizer Login to view email
About this event:
I AM SOCA "REVEL"
Join us for an unforgettable night of pure soca vibes. Get ready to dance, sing, and revel in the infectious rhythms of soca music!
On Fri Oct 06 2023, we'll be bringing together soca lovers from all over for an epic celebration of Caribbean culture.
Immerse yourself in the pulsating beats, vibrant energy, and contagious enthusiasm of soca music. With electrifying performances by renowned soca entertainers, this event promises to be an explosion of joy and pure revelry.
Whether you're a seasoned soca enthusiast or new to the genre, this event is for everyone who wants to let loose, have fun, and experience the magic of soca music.
Don't miss out on this incredible night of soca revelry! Mark your calendars, grab your friends, and get ready to dance the night away at I AM SOCA "REVEL".
When the Sun Sets
The REVEL Begins 🙌🏾🙌🏾🙌🏾
Miami Carnival Friday Night
🗓️ Oct 6, 2023
🕕 6pm
📍THE FETE LAND - 590 NW 23rd Street, Miami FL 33127
Miami get ready for a New Experience…
Unlimited Vibes & Fun. We REVELin
💿 International DJs
🎤 Live Performances
I AM SOCA EVENT RULES
--------------------------------------
NO Refusal Of Shots.. Drink Up!
NO Stushness.... We In Miami... Just Wine Back!
NO Sloppiness... Be Creative & Festive
NO Drama.. Just pure fun, bacchanal, & Vibes
#IAmSoca
#IAmSocaMiami
#IAmSocaRevel
#MiamiCarnival
#MiamiCarnival2023
#Soca
#TeamSoca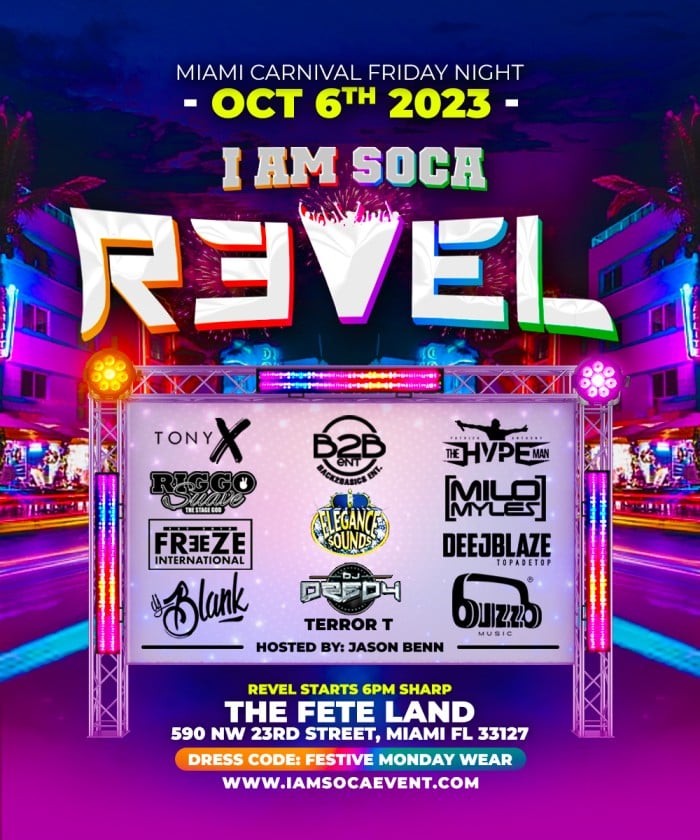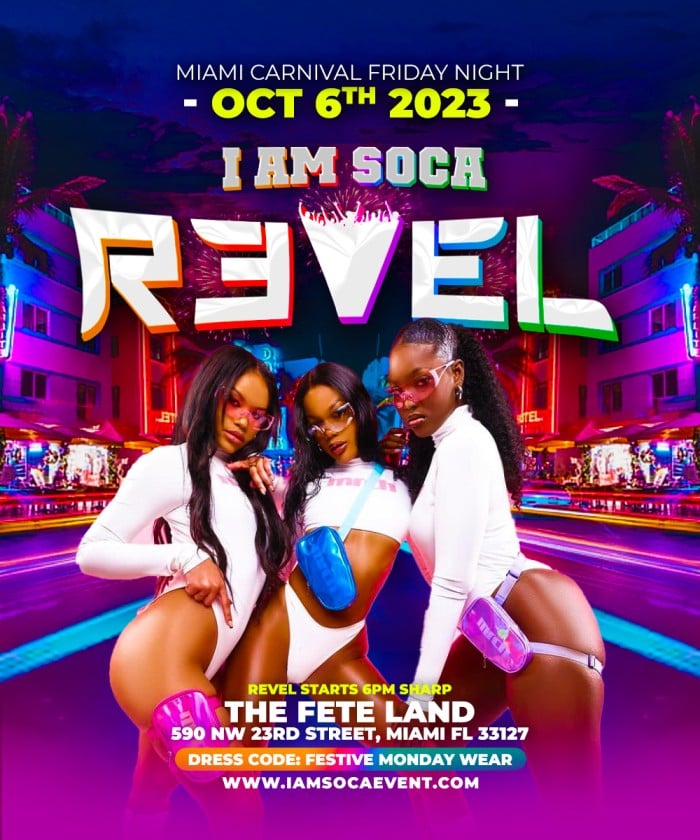 Tags:
#IAMSOCA
# IAMSOCAMIAMI
#MIAMICARNIVAL
#MIAMICARNIVAL2023
#TEAMSOCA
Start Date
October 06, 2023
End Date
October 07, 2023
Event Time Zone
America/New_York
Address
150 NW 21st. Street